James Bryant Homepage
James Mitchell Bryant - G4CLF
Midsomer Norton, England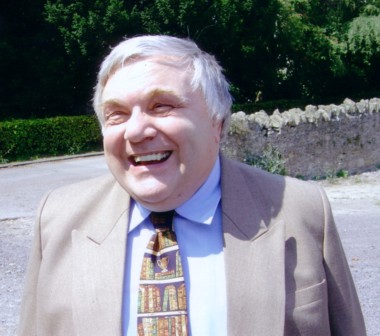 Accessed
---
James Mitchell BRYANT
Born 5 December 1942 in Woolton, on the outskirts of Liverpool, England.
Educated by Jesuits at St. Francis Xavier's College, Liverpool, 1954-61.
B.Sc. (Physics & Philosophy) University of Leeds (Picture). 1964.
(Resident in Lyddon Hall, 1962-4.)
(Life Member Leeds University Union (LUU))
(Member LUU Catholic Society, 1961-4.)
(Member LUU Archery Society, 1962-4, Captain LUU Archery Team 1963-4.)
Engineer, European Engineer, Chartered Engineer and MIEE.
Head of European Applications, Analog Devices Inc., 1982-Present.
Special Projects Manager, Voxson Audio Ltd., 1981-2.
Salesman, Integrated Circuit Designer & Applications Manager, Plessey Semiconductors, 1968-81.
At Plessey I designed the "G4CLF" SSB Transceiver and was involved with the G3ZVC version.
Graduate Apprentice & Design Engineer, Smiths Industries, 1964-8.
President (UK) Citizens' Band Association, 1976-85.
Technical Advisor to UK Parliament all-party CB Radio Committee, 1977-84
---
Author of many articles, papers and application notes on analog electronics, and of many of Plessey Semiconductors' and Analog Devices' Technical Seminars. I am spending much of the first half of 2003 travelling around Europe giving the latest "Amplifier Seminar 2002/3". Frequent lecturer on analog and HF electronics, hypnotism and C.B. Radio. Experienced in lecturing in English to audiences whose native language is not English. Responsible for Analog Devices' technical training both in-house and at customers' premises at a variety of levels.
---
In order to frustrate spam I have, I hope, removed all email addresses on my site by replacing @ with (a). To use any address please reverse the process - as a result all mailtos have been disabled.
---
I hope that any friends or colleagues from my past who find this Home Page will email me at jbryant(a)iee.org or james (a) jbryant.eu.
---
Sue Dove is doing geneological research on her branch of the Bryants. If you are interested contact her at sdove(a)atlcom.net
---
Link to Pat Wilson's Book List. Pat is a fellow-member of the Lois McMaster Bujold Mailing List who compiles a list of books recommended by and to members of the group and posts it here.
---
---
Interests:-
Amateur Radio
Analog Devices Applications
Archery
Cooking
Cosmopolitan
ElectronicBooks
Family & Grandchildren
Fireworks
(G4CLF)
The house I am designing
Hypnotism
Details of Incendiary 'At Plots (FanFic)
Limericks
Music
Philosophy
Raconteur
Let me tell you about "My Brother Fred - Past Master of the Subtle Art of Wit and Repartee".
Sailing
Science Fiction & Other Literature
The Lord of the Rings as an Analog of the Quest for a PhD
Things I am looking for

---
Link to "The Cotswold Ensemble" if you want to hire a Chamber Ensemble.
---
Link to "Carol's Sculpture Website" showing her sculptures of cheetahs and other animals.
---
Link to "String Tuition" if you live in or near Southampton and want to be taught the violin, viola or guitar.
---
Link to "the Parable of the Two Good Social Workers".
---
Link to a friend's blog site. I do not have a blog site myself (no time!) and since at last count 23 of my friends did have them, and it would take over an hour a day (which I so do not have) to keep up on a regular basis, I do not read them either except when triggered for a particular item. But I'll add other friends blog sites here (with or without identification as requested) if asked nicely.
---
Link to photos of Carol's and my wedding in June 2007.
And a link to photos of my trip with Carol to South Africa in October 2004.
And another link to photos of my trip to Vladivostok on the Trans-Siberian Express, April 2003.
Also to gps readings of the latitude and longitude of many stations on the Trans-Siberian route.
And also a link to photos of my diving trip with Carol to Sharm el Sheikh in April 2006.
---
Link to "large sari diagram" or to "smaller sari diagram" if you want to know how to wear a sari.
---
Link to gps readings of the latitude and longitude of some of the places I have visited since I acquired a GPS receiver.
---
Link to a solution to a problem causing major delays when closing files in Office97.
---
Link to a Course for Chamber Ensembles run by the Alberni Quartet at Gregynog Hall..
---
Link to notes on using digital multimeters in the home.
---
Link to a How to export lists of files and folders from Windows Explorer to Notepad.
---
Link to a very simple trap using two soda bottles for catching sticklebacks and other small fish.
---
Link to an English language Manual for a Caixing CX-2159 Digital Clock.
---
Link to my friend Richard Brett-Knowles if you should want a lecture on the British North Greenland Expedition of 1952-4 or on the History of Radar in WWII.
---
This is James Bryant's home page.
Number of visits to this page:
---