Malai Kofta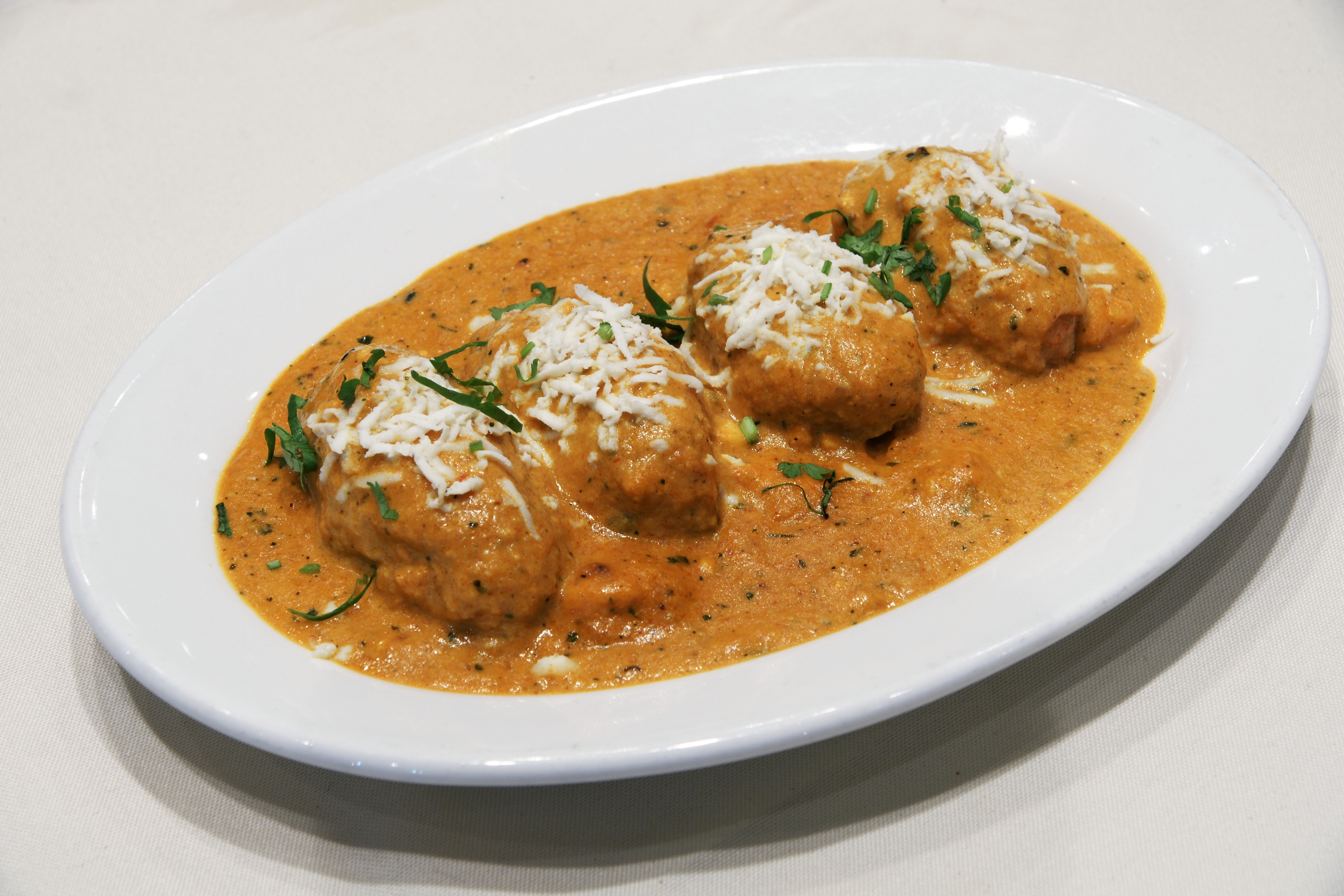 Spiced vegetables, cottage cheese and ground nuts are fried into patties
and served in a rich creamy sauce

INGREDIENTS
Koftas
150 gm Potatoes

150 gm Carrots

150 gm Cabbage

200 gm Onions

150 gm French Beans

200 gm Paneer (Indian cottage cheese)

250 gm Ground almonds or cashews

2-3 Hot Green Chillis

75 gm Butter (or Ghee)

1/4 tsp Turmeric

Cayenne (lal mirch - powdered hot chilis) to taste

1 tsp Ground Cumin

1 tsp Ground Coriander (dhania) or (better) 2 tbsp Chopped Fresh Coriander Leaves

2 eggs

Salt (or Aromat) to taste
PREPARATION

Peel all the vegetables and chop finely (4-15 mm cubes). Fry the onions in the butter in a large pan - when they are golden brown add the spices and cook another two minutes.

Add the rest of the vegetables, mix well, and cook over low heat in the covered pan, stirring occasionally, until the potatoes and carrots are soft.

Put in a food processor, add the coriander leaves (if used), chillis, chopped paneer, ground nuts and blend to a smooth uniform texture. If the mixture is too sloppy add a little flour. Shape the mixture into thumb-sized (and shaped) pieces. Coat in breadcrumbs and fry in oil until golden brown.


INGREDIENTS
Sauce
150 gm Onion - made into paste in a blender

2 Tsp Garlic paste

2 Tsp Ginger paste

2 Tbsp Almond or Cashew powder (same as in the koftas)

1 Tbsp Tomato purée

300 ml Vegetable stock

250 gm Ground almonds or cashews

Cayenne (lal mirch - powdered hot chilis) to taste

The remaining butter from frying the koftas

1 tsp Garam masala

250 ml Cream

1 tsp Dried fenugreek leaves (kasuri methi)

A little Paneer (Indian cottage cheese) for garnish

Fresh Coriander leaves (dhania) for garnish
PREPARATION
Fry the onion paste in the leftover butter from the koftas (add a little more if necessary) until it is cooked but not dark, add the ginger and garlic pastes and cook for 30-60 seconds and then add the tomato paste and cook for a further 2-3 minutes. Add the spices and nut powder and cook until the mixture and butter start to separate. Stir in the stock and cook until the sauce thickens, add the dried fenugreek leaves, (perhaps) a little sugar, and salt to taste. Cook another minute or two. Add the cream just before serving, then the heated koftas, garnish with a swirl of the last of the cream, a little grated paneer, and fresh coriander leaves, and serve at once with Indian breads - naan, roti or chapatti. Rice is fine with this dish, but bread is a little more traditional. Makes 6-8 portions.

An alternative, less hot and without the tomato, uses the sauce from the Chicken Kurma recipe, but without the chicken or any other fish, meat or vegetables. Again, add the heated koftas to the sauce just before serving.


---
This is a recipe page on the James Bryant (G4CLF) Web-site.
Return to James Bryant's Recipe Index
Return to James Bryant's Home Page
Number of visits to this page: